'Nam Huey on Display in Pittsburgh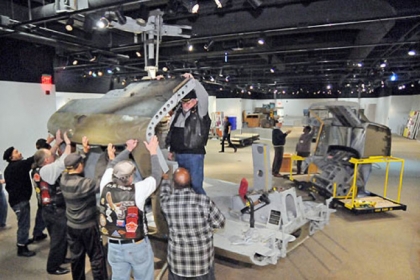 Kaitlynn Riely / The Pittsburgh Press
STEELTOWN--At the Heinz History Center today, some assembly was required.
The project was to piece together about 20 olive drab green parts to rebuild a UH-1H helicopter -- better known as a Huey -- used during the Vietnam War. The Army aircraft will be part of an upcoming exhibit at the Strip District museum called "1968: The Year That Rocked America," a traveling exhibit created with the Minnesota Historical Society.
"This is probably the largest artifact we've dealt with to date," said Emily Ruby, assistant curator at Heinz History Center. The helicopter, when completed, is 20 feet long and 8 to 10 feet wide, with two blades on top that are each 22 feet long.
Her staff had help putting the helicopter together from local Vietnam veterans.
"It's a way for us to connect with veterans in the community," she said.
The work started this morning, and at noon, about two dozen people -- museum staff, people involved with the Minnesota Historical Society and local vets -- paused to take a photograph in front of the partially completed Huey.
The helicopter, built by Bell Helicopters in 1966, was used by the Army in the Vietnam War from 1967 through 1970. The Minnesota Historical Society obtained the refurbished and rebuilt helicopter a few years ago for use in its exhibit.
Jim Puhala, 70, a retired North Strabane lawyer, watched this morning as the helicopter formed. He flew a similar, though slightly smaller, Huey during the war, when he spent most of 1967 in Vietnam as a gunship pilot and was awarded the Distinguished Flying Cross for his service.
Though he flew them, he never saw one being assembled, he said.
"I said, if I ever knew how they put it together, I never would have flown," he joked.
The Huey will be one part of an exhibit that tells the story of a year in American history that witnessed, among other events, the Vietnam War, the assassinations of civil rights leader Martin Luther King Jr. and presidential candidate Robert F. Kennedy, riots at the Democratic National Convention in Chicago and the national launch of Mister Rogers Neighborhood, which was produced in Pittsburgh.
The exhibit opens Feb. 2.
Kaitlynn Riely:
kriely@post-gazette.com
or 412-263-1707.